How Can I Send a Telegram in South Africa?
Historically a telegram was a message sent by telegraph and then delivered in written or printed form, widely used from 1981 to 2013. Telegraphs are no longer in operation and have been replaced by modern-day technology. Before the widespread use of phones and the Internet for communication, telegrams were the best way to convey information in a hurry. 
Unfortunately legislation has not kept up to date with technology and there is legislation that still refers to telegrams. For example, where the employee has been absent from work for three or more consecutive days and the employer is not aware of his whereabouts, the employer must first make all attempts to contact the employee and summons him to report for duty. According to the CCMA rules, this is done by sending a telegram or leaving a copy of a document at the last known address.
Hand-delivered Legal Notices have now replaced the historical telegram. Proof of Sending with Date, Time and Content is crucial to prove that legislation was adhered to. Legal Dispatch sends you both Proof of Sending as well as irrefutable Proof of Delivery. We include photos and GPS co-ordinates which are emailed automatically and free of charge. 
Is Your Telegram Snail Mail in Disguise?
Some companies offer Telegrams as a service, but if you ask a few questions, you will find that you are not sending a telegram at all. You are sending a letter that is printed and then sent by the postal service. Historically telegrams were hand-delivered and used for urgent or critical messages. You should look for a service that can prove the time and date of receipt and delivery. You should also receive irrefutable proof that your document was hand-delivered to the address you specified.
What Is Proof of Hand-Delivery?
Evidence of hand-delivery is not a hand-written scrawl or someones word. These methods are archaic and easily disputed in court. Legal Dispatch sends a full-page Proof of Delivery document for every hand-delivery done. Your Proof of Delivery includes the following: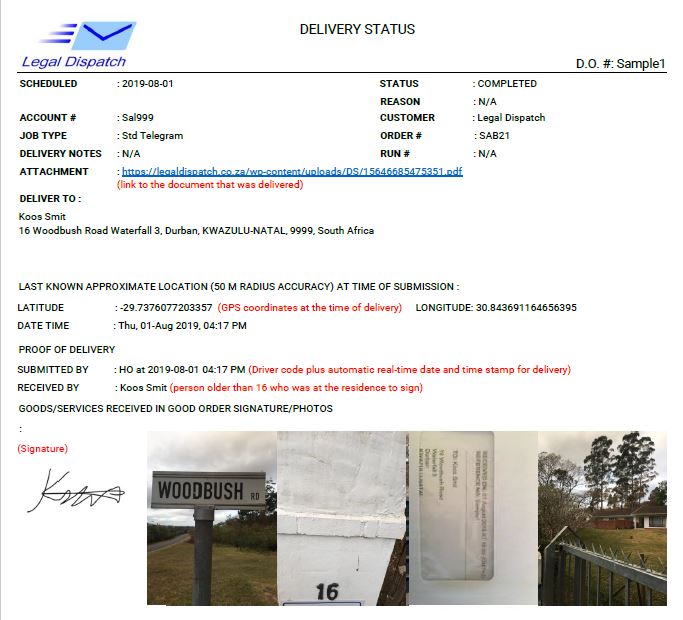 How Easy Is It To Send a Telegram?
Gone are the days of getting in your car and standing in queues! We offer an online service where you register on our website to create a 30-day account. Thereafter log in and submit all your legal notices directly online. Alternatively email us your notices to delivery@legaldispatch.co.za.
We keep you updated on your deliveries and invoice you monthly. If you'd prefer to try us out first or pay upfront, use the Send Now option on our website and pay via credit card.
We also offer a bulk sending service where we merge a spreadsheet with your template at no extra charge. We send you a few samples to approve before we submit the hand-deliveries on your behalf. You still receive an emailed Proof of Delivery for every hand-delivery in PDF format, real-time. Alternatively, we can FTP the Proof of Deliveries directly to your server.