(HISTORICALLY SENT AS A TELEGRAM)
We need specific information from you in order to prepare the legal notice for hand-delivery. Please enter the information below.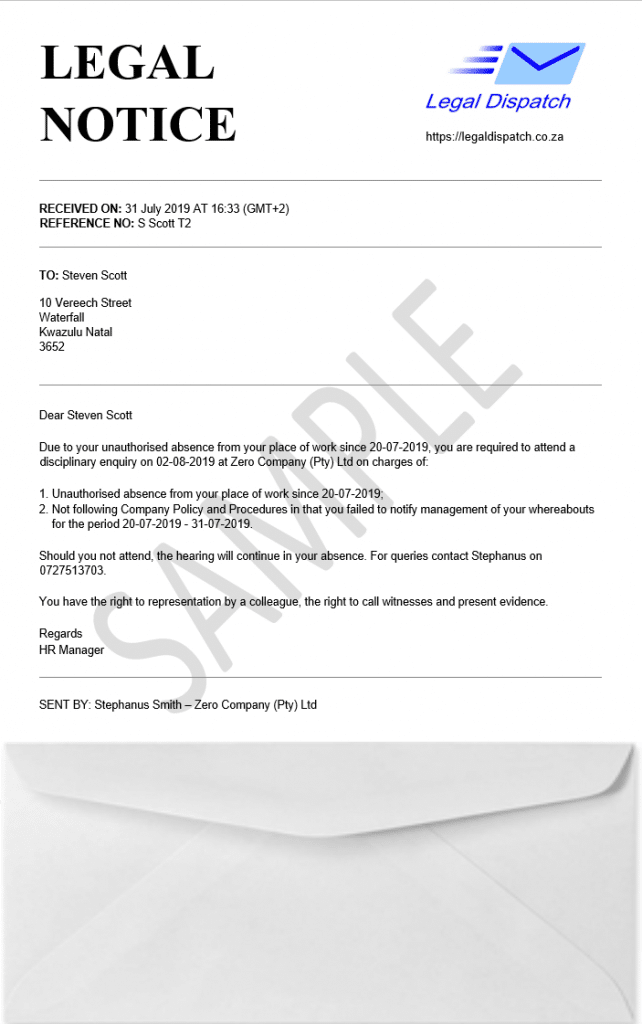 INSTRUCTIONS:
To send a legal notice, you must fill in the recipients details first. The recipient is the person you are sending the document to.
You can upload a PDF document. Remember to include the recipients name and address on the first page if you upload.
Alternatively, you can type or paste the wording into the Legal Notice Message field.
You have been absent from work without permission since (First day of absence) and failed to communicate your absence to the company. 
You are instructed to return to work immediately or contact your manager on: (Contact Number). 
Failure to do so will result in a disciplinary hearing being held which could lead to your dismissal.
With reference to the company's previous communication to you dated (Sent date), you have failed to return to work or contact your manager.
You are hereby notified that a disciplinary hearing on the date and time and at the venue specified below will be held, wherein you will be required to answer to the allegation of being absent without leave.
Hearing Date & Time: (Hearing Date & Time)
Venue: (Address of Hearing)
You have the right to representation by a fellow employee, the right to call witnesses, and present evidence.
Should you not attend, the hearing will continue in your absence.
On the (Hearing Date) you (Attended / Failed to attend) a disciplinary hearing (which was held in your absence). You were found guilty and are hereby summarily dismissed from (Company Name) with immediate effect.
Please be advised that should you feel the need to, you have 30 days in which to refer your case to the CCMA.
You will be paid for the days worked up to and including your final working day, and any leave days due to you.
(Add special notes like: pick up letter of dismissal, company property to be returned etc.)
Your Reference can be anything unique that you want to use to track the delivery.
Notify Email is the email address that will receive the proof of delivery.
Urgent Deliveries incur an additional cost.
Order Number is an optional field if your company works with order numbers.